Sponsored
Growth for Profitability Virtual Summit
Using analytics and technology to grow your DSO in 2023
---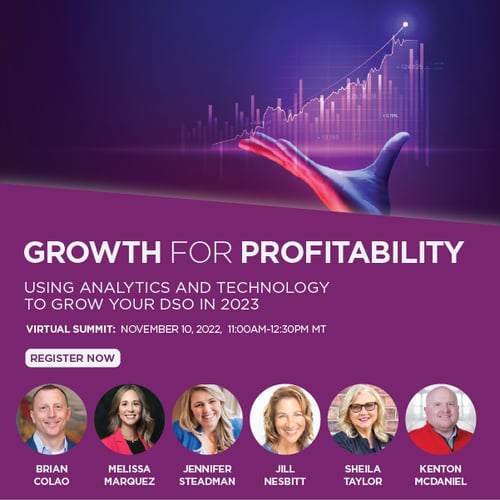 Keeping all areas of your complex, multi-location organization working together presents a big challenge. Because when they don't, it impedes growth and profitability. To understand just how to overcome that challenge, we've brought together six industry experts to share their knowledge in this FREE virtual summit.
These experts have so much critical information to impart that we've split the summit into two 45-minute sessions. DSO influencer Brian Colao will moderate both sessions as guest speakers explain growth strategies that positively impact the profitability of DSOs.
Session 1: How to Use Your Metrics to Plan and Execute a Great 2023
Expert Speakers: Melissa Marquez and Jennifer Steadman
Implementing successful budgeting strategies
Creating and executing effective annual planning
Building a plan for accountability in the new year
Preparing for growth in 2023
Session 2: Growing Your DSO Through Partnership, Value, and Security
Expert Speakers: Jill Nesbitt, Sheila Taylor, and Kenton McDaniel
Growing through a partnership approach
Appealing to dentists looking to join an emerging group practice
Offering the right services to be successful
Streamlining teams across all functional areas
Bonus: Kenton McDaniel will share the five questions you must ask your Information Security department.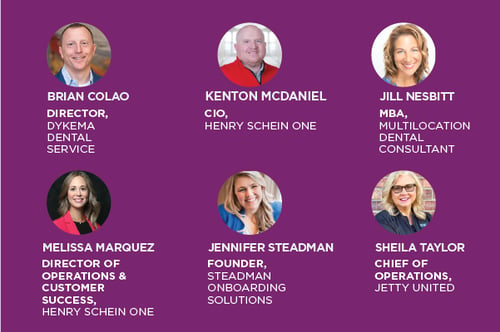 Moderator:
Brian Colao, Director of Dykema Dental Service Organizations, is widely regarded as one of the foremost authorities on DSOs and has been serving the dental industry for 25 years.
Expert guest speakers:
Melissa Marquez, Director of Operations and Customer Success, Henry Schein One. Before joining Henry Schein One, Melissa served as COO of Jarvis Analytics where she helped to create the most complete dental analytics platform for smart DSOs.
Sheila Taylor, Chief of Operations, Jetty United, is known for her positivity and enthusiasm. Sheila has worked for growing DSOs for over 20 years, excelling at program and team development and creating operational efficiencies.
Jill Nesbitt, MBA, Multilocation Dental Consultant, has spent more than 20 years in group dental practice management as a consultant with multilocation groups and DSOs.
Jennifer Steadman, BSDH, RDH, DAADOM, Founder, Steadman Onboarding Solutions. Hiring and transition expert, Jennifer's mission includes helping businesses hire team members who align with company culture and helping them maintain their teams through transitions.
Kenton McDaniel, Chief Information Officer of Henry Schein One, holds certifications across the spectrum of information security disciplines. He enjoys working on complex and sophisticated problems.


November 10, 2022


Time: 1 p.m. ET | 12 p.m. CT | 11 a.m. MT | 10 a.m. PT
Who should attend: DSO Leaders
Where: Virtually from your computer.
Learn how you can make your DSO more successful in 2023.